Meritec's HERCULES® Interconnection System is today's premiere High BandWidth (HBW) system. Running at speeds of 10Gb/s per pair, with up to 44 differential pairs, you are able to transfer data at unparalleled rates. Embedded in the MIL-38999, Meritec's HERCULES is the most rugged system on the market, withstanding extreme environments including temperatures from -65C° to +175C°, IP67 rated (capped or mated) and more.
While the packaging and high bandwidth are impressive there is still more. HERCULES meets or exceeds multiple protocols including: SAS, InfiniBand, USB 2.0 & 3.0, PCI Express Gen2, Serial I/O, Ethernet, CX4, 10G Ethernet, and SATA.
Meritec's packaging options include MIL-38999, sizes 23, 17 and 9 shells with size 13 soon to arrive. Meritec's development of HERCULES into the MIL-38999 shells creates Meritec's High BandWidth Family (HBW) along with the newest HERMES connectors and a HERCULES to Board Interface in development.
Termination and build options are numerous. First and foremost multiple protocols can be terminated to one HERCULES connector thus reducing necessary board space while maintaining necessary requirements. Other build options such as, but not limited to, cable plugs, jam nuts, flanged receptacle, angled or straight back shells, single or quad cable egress are available.
HERCULES has already been adopted into mil-vehicle applications enabling high speed data displays, Data-com and Ethernet communications. Other applications include aerospace and rotary wing high speed data transfer.
Visit MILCOM 2012 in Orlando, Florida Booth #436 October 30th – November 1st and see what HERCULES can do for you!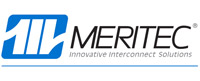 [email protected]
, 440.354.2106, 1.888.MERITEC, 1.800.863.9014
1382 W. Jackson St. Painesville, OH 44077