For superior cooling performance, the Pixus RiCool chassis are ideal for 3U and 6U OpenVPX systems.  They utilize powerful reverse impeller blowers that reside above the card cage, pulling air in one axis (to the top of the chassis) and blowing the air out in another axis (through the rear of the chassis). With minimal SWaP (Size, Weight, and Power), the RiCool IV blowers take up only 1U of the space in the system. This allows RTMs (Rear Transition Modules) to be placed in the enclosure without adding chassis height.
The Pixus chassis solutions generate 382 CFM of airflow, with fan control options. As weight is important in most Mil/Aero applications, the 3rd generation of blowers have decreased 25% in weight from the RiCool I versions. Various high-performance OpenVPX backplanes are standard.  The chassis platforms feature rugged rails for the high insertion forces of OpenVPX.
Fanless Systems & ATRs – Enhanced Cooling
With the growing heat dissipation requirements of OpenVPX systems, Pixus offers a conduction-cooled ATR with heat exchange.  Designed to meet MIL-810 and 901D for shock/vibrations and MIL-461 for EMI, the fully sealed ATR has an external shell for airflow, which can be hooked to a systems air system or deployed with MIL-grade fans.  Cooling to 375W and beyond is available in an ATR that minimizes SWaP and maximizes rugged performance.
Various high-performance OpenVPX backplane slot sizes are available with 3 to 6 slots typical.  Pixus provides a customized front panel and I/O cabling to customer's specific requirements.  Also, check out Pixus' Rugged Rackmount MIL enclosures.  Contact Pixus to discuss your application today!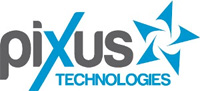 Pixus Technologies
www.pixustechnologies.com
[email protected]
916-297- 0020 (USA)
519-885- 5775 (Canada)