In January, Embedded Tech Trends 2023 was held in Chandler, Arizona at the Crowne Plaza San Marcos. After missing the past two years due to the pandemic, it felt great to be meeting in person again!
The theme for 2023 was "Livin' la Vida MOSA!" The presenters were encouraged to weave the theme of modular open system architectures into their presentations.
Embedded Tech Trends is a small, but extremely effective forum where suppliers of components, boards, and system-level solutions can meet exclusively with members of relevant industry media to discuss technologies, trends, and products.
The following is a synopsis of the presentations at this year's event:
Upside, Inside Out, Researchin' the VITA MOSA!
By Brian Arbuckle, Analyst, Embedded Market Research
Brian started off the event by reviewing highlights from market research he recently conducted for VITA. VITA publishes quarterly reports reviewing activity from financial performance to new products, contracts, and mergers in the VITA technology market. An annual report goes deeper into revenue estimates of VITA technology suppliers forecasting market sizes and shares across the various VITA technologies. Brian closed with a timeline of research planned for 2023. (www.vita.com/MarketData)
Connectivity Trends in the Data Center
By Bob Hult, Director of Product Technology, Bishop & Associates Inc.
High performance demands in data centers drive new solutions in connectivity. Challenges faced in commercial data centers tend to be the same as those using VITA technology. Increased capacity, faster switching speeds, reduced latency, reduced power, and reduced cost are but a few challenges. Bob reviewed these challenges and various solutions used to address them.
100G VPX Optimization and Interoperability
By Ivan Straznicky, Technical Fellow, Curtiss-Wright Defense Solutions
The road to higher data path performance for VPX is bumpy. Ivan discussed how we got to today's level of performance and how we might get to the next step. In 2018, Curtiss-Wright presented simulation results showing that 100 Gbaud transmission (at 25 Gbaud per lane speed) was possible with VPX using existing and recently announced copper connectors. This was at a time when it was thought by some that optical interconnects were required for these speeds. Now that it has been shown conclusively that 100G VPX over copper is here to stay, the focus has shifted to interoperability and optimization. Interoperability can be demonstrated using the emerging VITA 68.3 Reference SI Model Standard for Gen4 and Higher Speeds draft standard. Much of this work has been done using 3D electromagnetic simulations; however, test results show the simulations are accurate. This rigorous and detailed approach provides a template for ensuring open architectures and reliable operation of 100G systems for customers and suppliers alike.
Versatility through FMC+
By Patrick Mechin, CEO, TECHWAY Signal Vision System
The FMC+ (VITA 57.4) standard offers a broad ecosystem to provide access to easy flexibility for high-end applications. Thanks to connectors and COTS cards, Patrick demonstrated how to leverage the VITA 57.4 FMC+ standard to provide high-end solutions to industrial markets by pairing up PCIe FPGA platforms with FMC+.
Chronicles From the Book of MOSA: The Journey Continues
By Ken Grob, Director, Elma Electronic
Ken chronicled the evolution of modular open standards based on personal experiences. Ken participates in many of the active MOSA [modular open systems approach] initiatives, so his firsthand experience provides unique insight into what it takes to develop and implement a modular open system. His position gives him a multi­perspective view of the challenges that very few people in this industry have available to them.
High-Performance I/O Connectivity for Next-Gen Embedded Applications
By Matthew Burns, Technical Marketing Manager, Samtec, Inc.
Embedded compute engines including CPUs, GPUs, SoCs, and FPGAs feature the latest high-performance I/O connectivity. Copper-based interconnect solutions are typically used to route high-performance I/O connectivity from IC-to-IC or PCB-to-PCB. However, as system data rates and I/O counts increase, new and emerging embedded system architectures will leverage optical connectivity for routing data system to system. Matt summarized the technical advantages and benefits of on-board optical transceivers for the next generation of commercial and rugged embedded applications.
High-Density, Rugged Connectors: Smaller Doesn't Mean Less
By Billy Rhea, Sr. Product Manager, AirBorn
The term "rugged and reliable" is a common phrase used in countless marketing pieces within the electronic component industry. That distinction is also applied specifically to connectors, one of the core components of many electronic systems. Because no easily referenced grading system exists to distinguish truly rugged and reliable connectors from commercial-grade connectors only claiming to be, engineers must see through the marketing hype to determine a connector's true nature. Billy provided a detailed analysis of what it takes to classify a connector as truly rugged.
Dreams to Reality
By Nigel Forrester, Director of Strategy, Concurrent Technologies
A lot of progress has been made since the last Embedded Tech Trends to deliver MOSA solutions based on 3U VPX plug-in cards. Nigel examined a few of the key technological advancements and showed how they have enabled complex solutions to be constructed much more speedily.
Advancing SpaceVPX Interoperability
By Wesley Powell, Technical Lead, NASA Space Technology Mission Directorate (STMD)
As NASA exploration moves beyond low-Earth orbit (LEO), the need for interoperable avionics systems becomes more important due to the cost, complexity, and the need to maintain distant systems for long durations. The existing SpaceVPX standard, as specified in VITA 78, addresses some of the needs of the space avionics community but falls short of an interoperability standard that would enable reuse and common sparing on long duration missions and reduce NRE for missions in general.
Wesley reviewed a recent NASA study to assess SpaceVPX interoperability challenges and define a proposed solution. Using the NASA study recommendations as a starting point for discussion, NASA is engaging with the spaceflight avionics community to develop a SpaceVPX (VITA 78) "dot spec" that enhances interoperability.
Rugged System Design Realization
By Bill Pilaud, Director of Systems Architecture, LCR Embedded Systems, Inc.
The positive impact of MOSA initiatives is rippling across the embedded defense systems industry and the primary goal of reducing time to deployment for leading-edge systems is becoming a reality. System development timelines are getting shorter as the principles of modularity, interoperability, interchangeability, and scalability are applied to system function. That success has had an impact on system and chassis hardware design. In order to keep up the pace with hotter payloads and shorter lead time expectations, system integrators and chassis designers are driving innovative design approaches in electronic packaging that meet these challenges. Bill discussed the challenges and presented examples of how to streamline the path to the deployed system.
MOSA, SOSA, and NO-SA: A Comparison of Chassis Platforms for MIL/Rugged Applications
By Justin Moll, VP Sales and Marketing, Pixus Technologies Inc.
Common design challenges among MOSA, SOSA, and non-standard enclosures for mil/aero applications were discussed by Justin. Details of the different requirements in each environment for these enclosure classes were compared and design solutions to meet them were presented. The focus was on RF/optical implementations, cooling configurations, SWaP [size, weight, and power] requirements, and 100GbE/PCIe Gen4 backplane speed performance.
VPX Power: Present and Future
By Jerry Hovdestad, Director, AirBorn
Providing power to high-performance computing modules is defined in the VITA 62 Modular Power Supply standard. Recent updates added new configurations and extended the robustness of the standard. Jerry went through the changes made in the 2022 release that designers should be aware of for their future projects.
VNX+ At a Glance
By Bill Ripley, Business Development, Samtec, Inc.
Going faster with open standards means higher data rates, shorter design cycle times, and smaller architectures that feature improved performance and optimized SWaP-C [SWaP plus cost]. VNX+ (VITA 90.x) is the new and improved small-form-factor (SFF) draft standard with 4th-generation speeds, coaxial RF/video, and optical MT connectivity. VNX+ has been included in the new Sensor Open Systems Architecture (SOSA) Technical Standard. Bill detailed the standard's new architecture, improved environmental specifications, and current and future functionality.
The Value of SOSA Beyond the U.S. Military
By Mark Littlefield, System Products Director, Elma Electronic
The work being done under the SOSA Consortium focuses on defense applications, but the improved integration capability of SOSA aligned products benefits many other applications. Mark illustrated how integration capability is improved with the SOSA Technical Standard.
How High-Speed Video Is Unlocking Fast and Reliable Connectivity Solutions
By Michael Walmsley, Global Product Management, TE Connectivity
Demand for higher-resolution imaging and processing with low latency is driving changes in the system design for video applications. Video protocols have evolved to support data rates in excess of 12 Gbaud, thus presenting new challenges. Mike reviewed new developments in interconnects that are addressing the need for higher bandwidth and meeting signal-integrity challenges at higher data rates, from box to box and within a chassis. Industry standards are playing a key role in capturing these interconnect solutions to assure interoperability and optimize implementation.
Direct RF Revolutionizes Military EW and Radar Systems
By Rodger Hosking, Director of Sales, Mercury Systems
Advanced wideband data-converter technology supports direct sampling of wideband RF signals, thus disrupting traditional software radio architectures and yielding numerous benefits to virtually all high-performance military EW [electronic warfare], radar, and communications systems. Now capable of directly digitizing RF signals at 64 GS/sec, ADCs and DACs can now directly digitize and generate RF signals with bandwidths up to 30 GHz, thus eliminating complex and costly analog RF tuners and upconverters to cover many critical signal frequencies as high as K band. Additional benefits include reduced SWaP and cost per channel, both vitally important to high-channel count systems using phased-array antennas. With faster interfaces to FPGAs, many of these devices also offer much lower latency, which is essential for the latest adaptive EW and radar systems. Rodger discussed benefits and tradeoffs of these new devices and how they drive software radio architectures towards higher performance with lower cost and complexity.
[In photo: Rodger Hosking, Director, Mercury Systems, discussed direct RF's role in high-performance EW and radar. Photo courtesy Jerry Gipper.]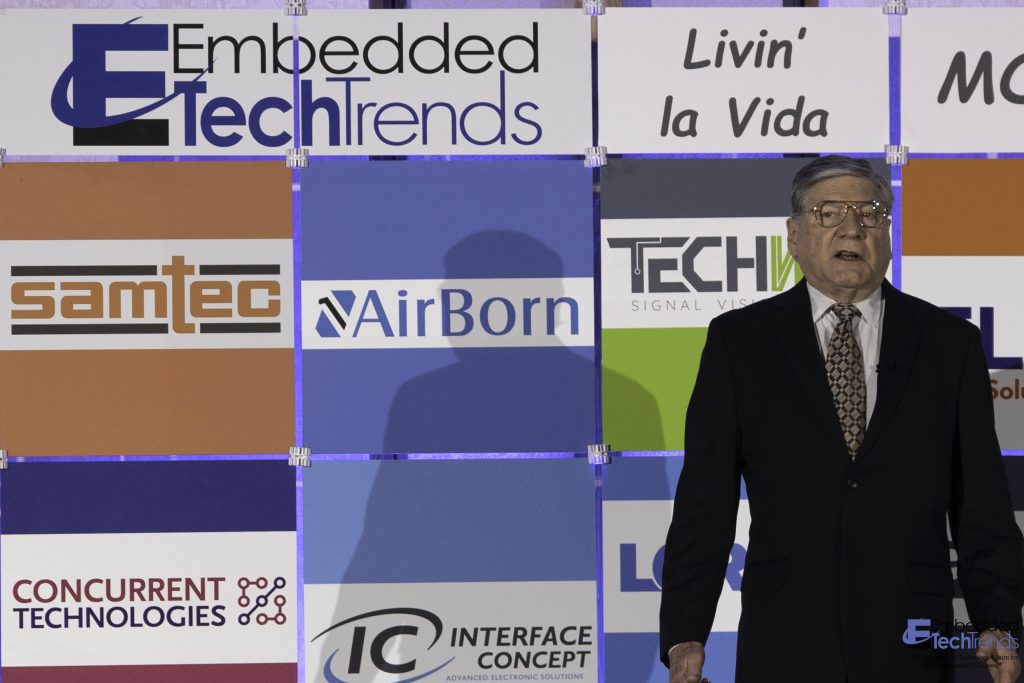 Optical communications: Use case – A new ODI solution
By Patrick Mechin, CEO, TECHWAY Signal Vision System
High-speed optical communications offer faster throughput and scalability to systems and hardware engineers looking for performance in their design. The Optical Data Interface (ODI) defined by the AXIe Consortium is one way to get high-speed, high-density solutions. Patrick illustrated how the ODI standard leverages three layers of technology, including the VITA 49 VITA Radio Link Layer (VRL) standard, to improve ODI solutions.
Enabling Space 2.0: Driving Affordability & Reliability in Space with Mil-Aero COTS
By Pratish Shah, General Manager, Aitech USA
Space electronics are evolving faster than ever. Common infrastructure, improved connectivity, reliable and integrated computing, and AI implementation are at the top of the list of challenges. Pratish launched into the challenges being addressed with next-generation space electronics and how the industry is responding.
OpenVPX Trends and Updates
By Greg Rocco, Member Technical Staff, MIT Lincoln Laboratory
OpenVPX is a living standard quickly adapting to the needs of the market. Greg Rocco is the father of OpenVPX (VITA 65). His open VPX tutorial is the beginning point for anyone new to the VPX concept and is a handy reference source for anyone designing with VPX. He reviewed the latest enhancements and changes to OpenVPX that will be in the 2023 release, now in its final approval stage.
NAVAIR Advances to HOST Standard
By LCDR Ryan Camasso and Sean McCormick, NAVAIR
The PMA – 209 Avionics Architecture team stepped through updates made to the HOST [Hardware Open Systems Tech­nol­ogies] standards. The HOST team leads the development and guides platform implementation of Open Architecture (OA) standards, processes, and best business practices for NAVAIR, resulting in DoD hardware and software product lines that increase the portability of applications, reuse of components, and the ability to adapt to changing requirements at a faster rate. They are a key pillar in the SOSA Consortium.
All of these presentations, with video, are posted at www.EmbeddedTechTrends.com. It is highly recommended that you view the videos to get the maximum information.