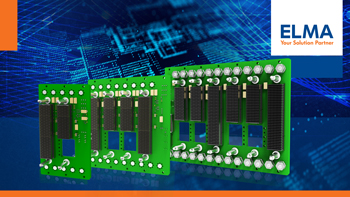 Designed in alignment with The Open Group® Sensor Open Systems Architecture™ Technical Reference Standard (SOSA), Elma's 3U backplanes offer a range from 2 to 12 PIC (Plug in Card) slots to support the defense industry's hardware and software convergence initiatives per the DoD's Modular Opens Systems Approach (MOSA) and CMOSS (C5IR/EW Modular Open Suite of Standards).
They provide the foundation for high-performance mission-critical systems requiring lower lifecycle costs and rapid technology insertion. It enables complex, high speed signal processing systems with the latest optical fiber and RF connectivity as well as precision network timing (PNT), and slot profiles for SBCs, switches, and payload expansion.
The backplanes support high-speed signals on all data paths and RF and optical connections.
Available standard in 2, 4, 6, 8 and 12 slot configurations
All PIC Slot Profiles are in alignment with the SOSA Technical Reference Standard: Compute-Intensive Payload, IO-Intensive Payload, Switch, PNT, and VITA 62 power

Ethernet Switch slots support 1/10/40 & 25/100
PNT slot profile SLT3x-TIM-2S1U22S1U2U1H-14.9.2

Routed Expansion plane links support PCIe Gen 4 data rates
All control and data plane links are designed for 25 Gbps data rates and support 100GBASE-KR4
Support for Tier 3 Chassis Management
Apertures to support VITA 66.x and 67.x RF and optical connections
Developers can use the development backplane as configured or work with Elma to identify your specific profile configuration needs. Have the backplane integrated in one of Elma's development chassis and work with our team to design the ideal rugged deployable platform.
Click here for complete details on all the SOSA backplanes Elma has available.